We are ready to publish materials on the "SID-Blaster/ZX" soundcard. This soundcard is for ZX-Spectrum compatible computers. It uses in its work MOS Technology SID soundchip, which together with MOS Technology 6510 microprocessor gives you possibility to play SID tunes from Commodore 64 computer.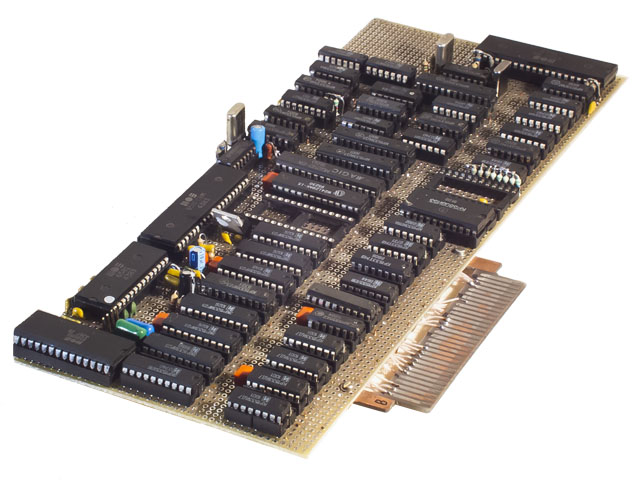 We are working on this card since autumn of 2011. Up to this point, I didn't dare to publish any information about development status, because we didn't know, will be something from our ideas or not. At the moment, we got the first positive results - the card made the first sounds! Of course, not all tunes are played correctly, but the fact that this card makes meaningful sounds says that the first phase of development of the prototype is completed. Now the card exists in the form of a prototype, assembled on prototyping board using discrete logics. We are trying schematic sonutions on this prototype.
Development on the card is not ready yet, so we will only publish information about development status.
Developers:
Byteman (Alexander Alexandrow) - main idea, concept, firmware coding for MOS 6510.
Prusak (Sergey Bagan) - hardware development, soldering'n'hardware debugging, software coding for ZX-Spectrum for Z80.
General information
This card is a piece of Commodore 64 computer without video-interface and keybord, with added interface for communicating with ZX-Spectrum via Nemo-BUS interface. In fact it is more complex, but generally it is like that.

- Processor - MOS Technology 6510 (two fixed clocks, PAL (985kHz) and NTSC (1023kHz), software switching);
- 64k SRAM;
- ROM - 16k (in prototype ROM could be replaced with 16k RAM for rapid BIOS loading into card);
- MOS Technology SID 6581 AND 8580 soundchips (software switching);
- Direct playing of PSID and RSID tunes;
- Possibility to change playing speed;
- PAL & NTSC compatible (INT and CLOCK freq.);
- Plays "fat" tunes;
- SID2SID compatible;
- Nemo-BUS interface, #xx5E port array;

It is possible that in the further development some characteristics of the card will be changed.

The card is independent microprocessor device, which works independently from ZX-Spectrum. The card has its own firmware (BIOS). The main concept is similar to General Sound soundcard - you give some commands to the card, transfer data using defined command set, etc.

We won't publish any schematics of the card yet, because schematic could be changed many times a day. We will post photos of the card and development progress.
The chronology of the development
18.07.2012 - Fully completed the work on the PSID-playing track. Performed work on the RSID-tracks.
13.06.2012 - We were able to buy a set to build ZX-Evolution and self-assemble and build a computer. So again we continue to work on the development of Firmware.
4.06.2012 - Prototype of the sound card was presented at the 48th BSUIR Scientific Conference and was awarded a diploma.
7.05.2012 - Work on writing the firmware for the sound card stopped. Computer ZX-Evolution, which we did, broken by an unfortunate accident and is beyond repair.
10.03.2012 - PSID-tunes, which plays in $6 memory map, are working correctly. Correct VIC/CIA and PAL/NTSC switching;
4.03.2012 - emulation of the VIC chip is made;
19.02.2012 - prototype can play some music tracks;
October 2011 - beginning of the development prototype SID-Blaster/ZX;
May 2011 - the first attempt to connect SID chip and ZX-Spectrum (prototype - SID-Card).
Photo and video
Photos and videos are placed in chronological order - first posted the latest photos and videos.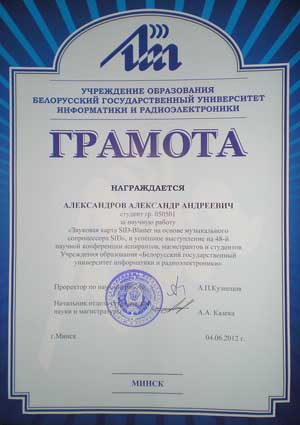 48th BSUIR Scientific Conference diploma
The prototype of SID-Blaster/ZX soundcard was tested on ZX-Evolution (baseconf and TS-Labs configurations)
SID-Blaster /ZX, prototype, build at 4.03.2012
Looks like a monster - 66 chips :)
Solder side. Horror...
JW Player goes here
| | |
| --- | --- |
| SID-Blaster/ZX working demo, 19.02.2012, HD-quality | |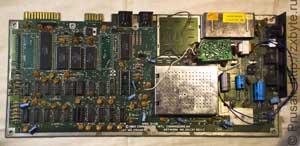 This faulty computer served as a source of MOS-chips for me to build prototype.

First prototype - SID-Card.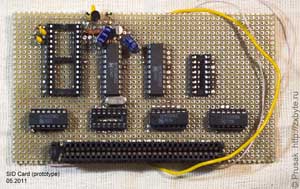 First prototype - SID-Card